Welcome to B-Dapedia
About B-Dapedia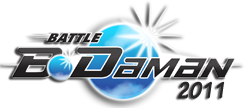 B-Dapedia is the official Wiki Database on all things B-Daman. B-Dapedia includes information on Battle B-Daman the anime and the hobby. We include a growing database of pictures and new articles. (Note: I am writing articles as a re watch the series so many pages may be missing or be marked with To Be Edited (TBE), so please be patient or help by posting correct in formation.-'Desboy96')
Characters & B-Daman
Battle B-Daman Episode
B-DaBattle Mountain is the second episode of Battle B-Daman Yamato Delgado meets a new friend named Bull Borgnine. Bull is a mysterious fellow who helps Yamato to hunt down his first rival Gray Michael Vincent. He finds Gray atop B-DaBattle Mountain where the two find how their destiny's change and converge like the flow of wind.
Gallery
Character of the Month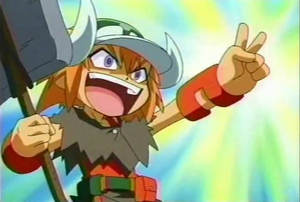 Gunnos is a main character in Battle B-Daman: Fire Spirits! Gunnos is an eleven year old male with orange hair and blue eyes. Gunnos is usally seen in a stone age like costume and carries around a large stone tomahawk. Gunnos wears a green elephant hat with white desings and tusks. On his torso he wears a red tank top with a ripped brown button cloth. On his arms he wears large wristbands and on his waist he wears a loincloth skirt and green belt with orange equiptment holders. Gunnos is a very uplifting young man and his personality is much like Yamato's. Gunnos comes off as very annoying, always bragging and bringing the same topic up over and over again. Gunnos is very self confident and will always reaches for his goals. Gunnos has a strong sence of sportsmanship and morals like that and is not a sore loser though he is a sore winner.(more...)
B-Daman of the Month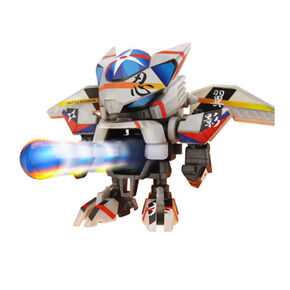 Wing Ninja is is Terry's B-Daman Wing Ninja is a zero system control B-Daman with several color designs and a wing pack for control. Its helmet depicts fox like design along with several different Ninja-like designs on top. (more...)
Community content is available under
CC-BY-SA
unless otherwise noted.