Welcome to B-Dapedia
<createbox> width=24 break=no buttonlabel=Create a new article! </createbox>
About B-Dapedia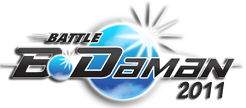 B-Dapedia is the official Wiki Database on all things B-Daman. B-Dapedia includes information on Battle B-Daman the anime and the hobby. We include a growing database of pictures and new articles.
Characters
Cross Fight B-Daman Episode
This is B-Daman?! is the first episode of Cross Fight B-Daman Kakeru Ryūgasaki a young boy is introduced to the world by his friend Natsumi.Kakeru earns his own B-Daman, Accele Dracyan but Kakeru doesn't know that his journey to the world of B-Daman has only yet to begin. (more...)
Gallery
Character of the Month
Laigo Ogra is a main character in Cross Fight B-Daman Laigo is a tall 12 year old boy with Brown hair and gold eyes. His hair is long and bushy much like the mane of a lion and his eyebrows seem to be cut into sections. He wears a collard shirt under a yellow and red striped vest. He wears brown cacky pants with brown boots aswell. Laigo is a wild acting boy who takes a strange liking to african wildlife especially lions. He seems to want to become as much like a lion as possible, hinted by his hair style and his constant roaring in public. He also lives and trains out doors giving him a rouge edge against his opponents.(more...)
B-Daman of the Month
Knight Cavalry is is Cain's first B-Daman Knight Cavalry is a zero system B-Daman armored with Knight like accessories. Knight Cavalry is decorated with Blue and White symbols on it's head, shoulders, blaster barrel, wings and feet. It's unique control device is the wing pack on it's back, this also allows power for even its type. (more...)
Community content is available under
CC-BY-SA
unless otherwise noted.