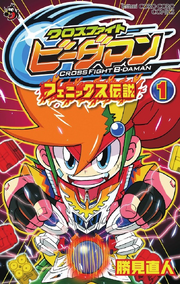 Cross Fight B-Daman: Legendary Phoenix (Japanese: クロスファイトビーダマン フェニックス伝説, Kurosu Faito Bīdaman Fenikkusu Densetsu) is the second Cross Fight B-Daman manga series, and seventh B-Daman manga series overall. It serves as a spin-off to the Cross Fight B-Daman manga, being serialized monthly in CoroCoro Comic. The first volume was released on December 28, 2012 whilst its second and last volume released August 28, 2013; both volumes retailed for 420円. It is written and illustrated by Naoto Katsumi.
It follows a completely different protagonist, Enzi Hikigane, replacing Riki Ryugasaki. In the manga series, Enji goes on adventures with his friend, Hajime Tamauchi while possessing Spike=Phoenix, the "Legendary Phoenix".
It is also known for promoting the Phoenix Campaign, which began on December 28, 2012, and ended August 31, 2013, claiming that one can participate in it "100 times more" if they read the manga. With the purchase of any Cross Fight B-Daman from CB-61 (Kreis=Raydra) onwards comes a special WBMA card marked with challenges for Power, Rapid-Fire and Control-Types. If one completes all of the challenges, they could have handed it in at a WBMA-official event where they be awarded with the highly rare and sought-out, Spike=Phoenix.
Plot
Enzi Hikigane may seem like a rough-and-tumble protagonist but he is an exceptionally-skilled B-Der that uses his elusive custom-made Spike=Phoenix to earn a livelihood in the bustling city. One day, he meets Hajime Tamauchi, an average joe whose interest in B-Daman started after watching Enzi's B-damanccentric tricks of the trade. The series follows the daily life of Enzi and Hajime as they bid their way to be the best B-Ders and also to fend off those who are trying to capture the elusive Phoenix.
Characters
Protagonists
Antagonists
Rivals
Other
Volumes
Chapters
Gallery
Trivia
Community content is available under
CC-BY-SA
unless otherwise noted.