Dashing Tankshell
ガトリング=デスシエル
Information
Product Code
CB-78
Type
Rapid Fire
Price
997円
System
Emblem Charge System
Series
B-Daman Fireblast
Release Dates
Japan
June 22, 2013
English
TBA
Parts
Body Set
Deathshell
Core Part
Gatling
Stats
Power
3/10
Rapid-Fire
9/10
Control
3/10
Anime/Manga
Owner
Genta Ankokuji
First Appearance
Mode Change of Friendship! Assault=Dragren
Special Move(s)
Storm Inferno, Storm Dark Inferno (Emblem Charge), Infinite Dark Inferno (w/Dash Stabilizer)
Gatling=Deathshell (Japanese: ガトリング=デスシエル, Gatoringu=Desushieru) is a Rapid-Fire Type B-Daman to be released as part of the Emblem Charge System's Gimmick Specialty Series. It released as a Special Starter on June 22, 2013 in Japan for 997円.
It is wielded by Genta Ankokuji in the B-Daman Fireblast anime.
Body Set: Deathshell Body
Head Part: Deathshell Head
This Head Part is quite bulbous while harboring two, thin spikes jutting upward at its sides. It has a semi-translucent violet color scheme.
Emblem Parts: Deathshell Emblem
Gatling=Deathshell has a singular Emblem Part consisting of a hexagon surrounded by six other hexagons, giving the effect of the patterns on a tortoise's shell. It can be taken apart and mounted on either Arm Part.
Stud Parts
These Stud Parts are cylindrical and of a solid black coloration. The prototype had pearlescent white Stud Parts.
Arm Parts: Deathshell Arm
Deathshell's Arm Parts mold into a bending format while using a spike on each shoulder; protruding outwards similar to the Head Part. They are of a semi-translucent violet coloration. The shoulder-spikes can be removed and placed on the feet of Spike=Phoenix's Leg Part.
Leg Part: Deathshell Leg
The feet of the Leg Part seem slightly long and linear. Semi-translucent violet is used for its colour scheme. They are hollow, as a means of weight reduction. There are also small peg inserts in the heel of the Leg Part that allow the Dash Stabilizer to be attached as a Version-Up Part.
Core Part: Gatling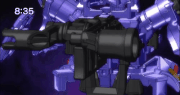 The Gatling Core features a two-handled crank known as the Gatling Unit, which can be turned backwards to fire a stream of B-Dama, and has a removable grip that can be put on either socket. It uses the same body shell as Sonic, and it is semi-translucent purple with black parts. Unlike the Sonic Core, it has no rollers on its Hold Parts, but its cylindrical tips do resemble rollers. The prototype of Gatling=Deathshell (see the Toyline section of the Gallery) had this Core Part in a metallic gray coloration, with the Trigger and Gatling Unit colored a pearlescent white instead of black. 
Breakage Issue
Because the Core Part is made of a semi-translucent plastic, it's potentially fragile. If you take the Head Part off directly, you may end up leaving behind a crack or two. If you wish to use this Core with other Head Parts, remove part of the Core and extract the current Head Part from there.
Overall
B-Daman Fireblast (anime)
Gallery
Toyline
Anime
Trivia
Community content is available under
CC-BY-SA
unless otherwise noted.