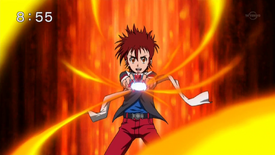 Emblem Charge
(Jap: エンブレムチャージ,
Enburemuchāji
) is a shooting technique introduced and utilized in
B-Daman Fireblast
.
Details
An Emblem Charge is achieved when both of the Emblems on any Emblem Charge System B-Daman are pressed in. This will power up a shot, due to the force acting on it.
Anime
B-Daman Fireblast
When an Emblem Charge is charging up, the B-Der's eyes will light up with the Emblem's symbol representing the B-Daman they are firing from.
Kamon Godai's Drive=Garuburn was the first to use this, using it in I'm Getting Fired Up! Drive=Garuburn!. Upon doing so, the B-Dama shot out as a fiery blaze, showing off the power. It was able to take down all the pins in a single shot due to the combined power of that and the Drive core.
In the same episode, Samuru Shigane's Sonic=Dravise performed it's first Emblem Charge. While the power wasn't demonstrated, it showed that Dravise's B-Animal appears.
In Vroom Vroom, I'll Sting You! Slot=Beedle!, Mitsuru Hachisuka's Slot=Beedle performed it's first Emblem Charge. The shot performed in a zig-zag pattern and was used to navigate between a gap in two fences during a Road Fight challenge.
Emblem Charge Shots
Toys
On any Emblem Charge System B-Daman, holding in both Emblem Parts will apply force to the B-Dama, effectively causing a more powerful or smoother shot when fired.
Gallery
Community content is available under
CC-BY-SA
unless otherwise noted.