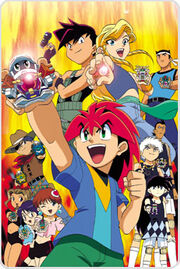 Super B-Daman
is an anime and manga series written by Shun Imaga and produced by Xebec that first aired on January 1, 1999. It released only in Japan and has so far not received an official English release. In Japan it aired on TV Tokyo.
Plot
The show's protagonist, Tosaka Tamago, competes in JBA tournaments with his team, Team Guts.
Voice Cast (Japanese)
Tamago Tosaka - Fujiko Takimoto
Ganma Nishibe - Chiyako Shibahara
Cerer - Yuka Imai
Nekomaru Toda - Kumiko Watanabe
Yoshinori Kazama - Atsushi Kisaichi
Tsuyoshi Ookura - Soichiro Hoshi
Yasuyuki Ide - Mayumi Asano
Dr. Tamano - Kenyu Horuichi 
Madoka Daisaku - Kiyoyuki Yanada
Ijuuin Atsumasa - Hiro Yuuki
Akira Houjou - Rio Natsuki
Motou Saotome - Hisayoshi Izaki
Mari Onodera - Haruna Ikezawa
Miki Chuusonji - Masako Toyoshima
Nana Daigouji - Shouko Kikuchi
Kouichi Kuroha - Akiko Yajima
Tsuyoshi Kuroha - Miho Yamada
Eiichi Satsuki - Kouichi Touchika
Eiji Satsuki - Daisuke Kirii
Kanji Watanabe - Tsutomu Kashiwakura
Kakeru - Yuuko Katou
Mamoru - Erina Yamazaki
Gotou - Hiroyuki Yoshino
Aoki - Narumi Hidaka
Harada - Takayuki Yamagusa
Katayama - Mayuko Kawauchi
Shuuji - Daisuke Sakaguchi
Motoshi - Akio Suyama
Sebastian (Cerer's Butler) - Hiroshi Itou
Master Kouryakuoh - Showtaro Morikubo
Narration -  Tessho Genda
| | | |
| --- | --- | --- |
| | This article is a stub. You can help B-Daman Wiki by expanding it. | |
Community content is available under
CC-BY-SA
unless otherwise noted.