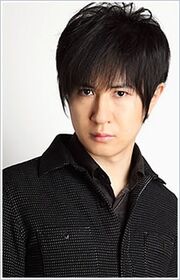 Tomokazu Sugita (Japanese: 杉田 智和, Sugita Tomokazu) is a seiyuu from Saitama, Japan. He is affiliated with Atomic Monkey.
Roles within B-Daman
Other notable roles
Fluegel (.hack//LINK)
Gintoki Sakata (Gintama)
Keisuke (Togainu no Chi)
King (Final Fantasy Type-0)
Kyon (The Melancholy of Haruhi Suzumiya, Lucky Star)
Ragna the Bloodedge (BlazBlue)
Community content is available under
CC-BY-SA
unless otherwise noted.